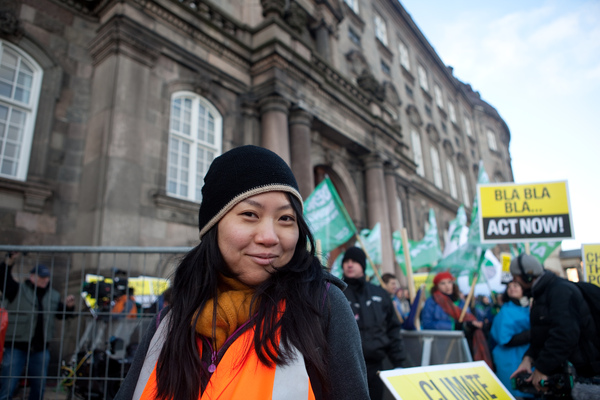 Last weekend, I joined Friends of the Earth Int'l as a steward in our action for COP15.
This is a recap from my journal:
"A trip from Amsterdam to Copenhagen. Bus+Ferry took us more than 13hours to get there. After working and marching with protest groups forthe whole day, my body is now complete sore and all i can remember isthe slogans.....

從阿姆斯特丹出發到哥本哈根參加聯合國氣候變遷會議的抗議行動. 巴士加渡輪總共花了13多個小時才抵達. 三天下來整個超疲憊, 喊口號喊到連作夢也在喊.


@ Friends of the Earth
"What do we want?" "Climate Justice!"
"When do we want it?" "Now!"
"Do you want to join the flood today?" "Yes!"


and then i lost my folks and complete got lost. but luckily i met somesocialist students from the netherlands and joined their group...
"They say climate change. We say system change."
"Anti, Anti, Anti Capitalista!"

Itwas a touching moment to witness more than 100,000 people from all overthe world gathering there for the same cause. And...what even moreamazing for me was that I met the TVBS crew from Taiwan and got a shortinterview~~~!!! "Mom~~ I am on TV!!" ;p
這次遊行規模盛大,許多團體從世界各各角落湧進哥本哈根就是為了對政客們伸張我們對地球以及氣候的基本生存權利, 熱血中帶有許多創意跟意識, 實在令人感動!
//